So many riders end conversations with the same two words. "Ride safe." All variations of this departing phrase ("keep the rubber side down", "remember ATTGATT," and the pointed "don't die") mean the same thing. Ride in a way to live another day. But how do we ride safe? The minute we throw a leg over a bike, we're taking a risk and we know this. But what is the best way to manage this risk? Here are the nine steps you need to take. Every. Time.
Before the ride
Most people think that the ride begins when you shift into first and ease off the clutch. Well, technically that's right, but I like to begin my safety checks before I ride. The first 6 items on our list happen before the ride even starts:
1. Select the right bike
Wait. What? Find a bike? What does this even mean? Well, before we start our ride we need to find a bike that suits us. In fact, for new riders selecting their first bike, the task can be as difficult as deciding on your first tattoo. Even motorcycle owners decide to try different bikes from time to time. Perhaps they rent a motorcycle when they travel, or they decide to test ride a bike before they buy. Many riders decide on their next bike based on how the bike looks, when in fact this should be the second or third item you consider. It's important to look at:
• Overall power – this is a tricky metric. Just because a bike has high displacement, it doesn't mean it's faster. A 700cc motorcycle can be just as fast as a 1400cc. It all depends on the weight
• Wet weight – are you about to ride a Harley-Davidson touring bike and have only been on Triumph Bonnevilles? This is okay, but make sure you're prepared
• Power-to-weight ratio – The higher this number, the faster the bike, and if you learned to ride on a cruiser, be careful. Bikes with higher ratios will have shorter braking distances, faster acceleration, and higher top speeds
• Your judgement – sometimes we think about riding a bike and something tells us we shouldn't Maybe the bike is too big. Maybe you haven't ridden with a sidecar before. Or the bike is too fast. Listen to your gut. Don't get in over your head.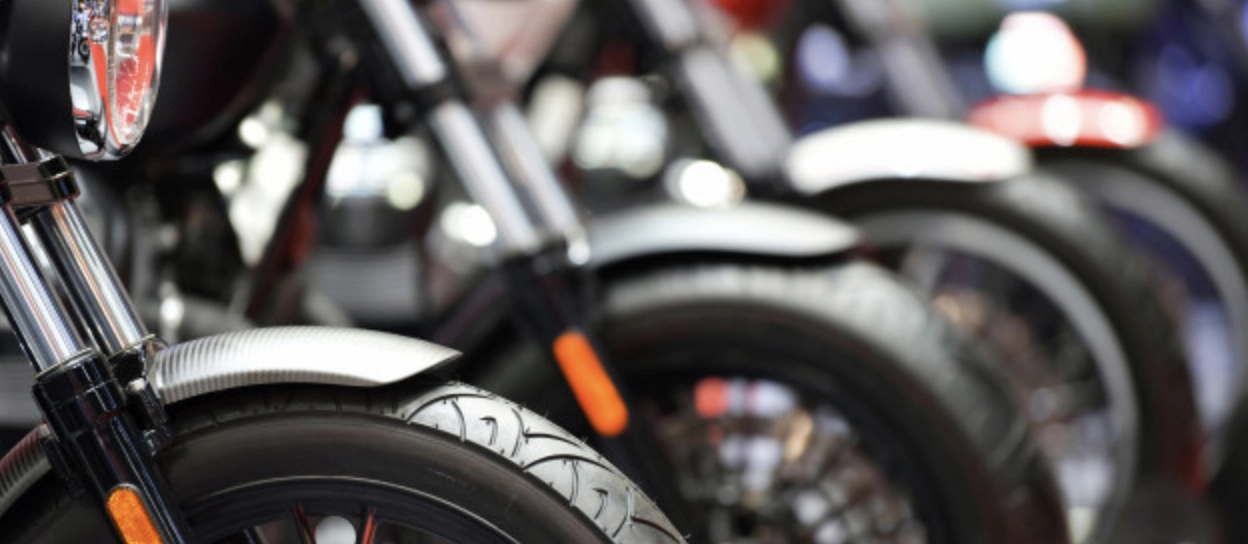 2. Always wear a full-face helmet
Wear a full-face helmet, with a face shield (or eye protection). Always. My friend Jim rides, and always wears a motorcycle helmet, except "when he just needs to go to the store really quick to get something." Really? Most accidents occur at slow speeds, and even at slow speeds, not wearing a helmet increases your risk. The helmet may save you if you hit a patch of gravel. Or an oil slick. And your head hits…something. It's critical to safe riding. Oh – one more thing. You're probably asking whether a full-face helmet is necessary. An open-face helmet looks so much cooler and isn't nearly as hot in the summer. Right? Sure, but the most common area of impact to a motorcycle helmet is the chin at 19.4%. It's worth wearing a full-face helmet
3. Wear protective gear – always
There are a few basic rules here. Boots that cover your ankles, an abrasion resistant jacket with armor, long pants or jeans, gloves, and the full-face helmet in #2. If you want more protection, wear motorcycle pants with armor and moto boots. Just because you've never dropped a bike doesn't mean you won't horizontally park one day. You may find yourself asking "do I always need to wear all this gear? How about in the summer? When it's 100°, sweltering, and humid?" Yes. Yes. And Yes. If it's that unbearable, get a vented white helmet and some lighter colored or white gear.
4. Check the weather and know your limits. Then check it again.
To be a safe rider, we need to plan. It takes time to plan a safe ride, and concessions are often made by cautious motorcyclists. Last year, I spent a week riding from Denver to Las Vegas in October. And it was lightly snowing. I was wearing rain gear and ski gloves and I wasn't afraid of some light snow. I had spent three months planning for this ride, using the REVER app to plan the route and different weather apps to check the forecast. But the weather changed daily. So, I needed to re-plan and reroute. Every day. Before bed each night I'd review the forecast, and plan the route. I'd repeat this in the morning. Rain and snow can move in quickly, and if we properly anticipate them, we can make safe decisions. Need to cancel a hotel? It's worth it. Have to catch a later flight? It's worth it. The small financial impact of these choices can save your life.
5. Stay sober
Pilots have a saying: "Eight hours from bottle to throttle." Well, it applies to us too. Safe riding takes all of our concentration. We use all four limbs, our eyes, ears, and nose. We are always aware. I'm not going to start lecturing you on blood-alcohol content, impaired judgement and delayed response time. I'll leave that to the 8th grade health teachers. Just don't do it.
6. Get some rest
This kinda goes without saying, but not really. Being on a motorcycle requires a significant amount of focus; after a long ride, I'm mentally exhausted. So when you ride, make sure you're a safe motorcyclist and get a good night's sleep. Highway hypnosis applies to both drivers and riders, so even when you're well rested, you may get tired during a ride. Take breaks. Stay hydrated. Stretch. And if needed, nap. A few years ago, I was riding the Blue Ridge Parkway and started getting a little tired. I turned into a scenic pullout, parked the bike, found a patch of shade, and took a nap. Just 15 minutes of rest in the grass, using my jacket as a makeshift pillow, was all I needed.
7. Pre-ride
This is easy to forget. You're with your pals, and can't wait to get out and ride the open road. You need to relax, get some wind therapy, and unwind. The last thing you need is to do a pre-ride check, right? Wrong.
It takes about 3 minutes. Check the lights (brake lights and turn signals), tire pressure, and fluids. Do this and you'll greatly reduce your chances of running into an unanticipated issue.
8. On-the-bike checklist
Do you remember what you did the last time you sat on a motorcycle in a dealer's showroom? Think about it for a minute. I'll tell you what you did. You checked the suspension, you adjusted the mirrors, and you pictured yourself riding. Sometimes it felt comfortable, like being on a recliner, whereas other times you felt constrained, like being buckled in on a roller coaster. How does this bike feel right now? Good? Are you cramped? Are your shoulders relaxed? Back comfortable? If not, make adjustments Then check the clutch and brake levers. Do they have a proper amount of resistance with some jiggle in the handle? Great. If not, don't ride. And if the front brake doesn't work and the lever depresses to the grips, just get off the bike. The front brake is responsible for 80-90% of your braking power. Get the brakes fixed.
9. Remember, you're invisible: ride defensively
Do you know what the most common phrase a driver says after a collision with a motorcyclist? "I didn't even see him." Drivers are trained to see other cars, not bikes. And because of our narrow profile, we often find ourselves in an auto's blind spot. The best way to ride is defensively. Pretend nobody sees you. Do your best to predict driver behavior (or at least expect the worst). Don't stop looking, thinking, scanning your mirrors, and being alert. We are frequently invisible. So. Is this a comprehensive list on everything you need to do to stay safe? Not at all. But it's a good start, and I'm sure that if you review this diligently before each ride, you will increase your general riding safety. And, as always, ride safe.
Note: This was originally published in Jan, 2020, and has been updated with more recent information.